A place to get inspired
In a village in Noord-Holland called Laren the American couple Anna and William Singer build a villa at the beginning of the previous century, and named it the Wild Swan Villa. The couple had a joint passion for the arts. After Williams death, Anna decided to share their extensive collection with the public. By building an extra wing onto the villa in the form of a museum and a theatre. For decades Singer Laren has been known to the public as cultural heritage consisting of a museum, villa theatre and sculpture garden.
Recently Singer Laren has undergone a huge renovation, which makes the homely atmosphere even more present. The exhibition rooms, the so-called Nardinc Wings consist of 400 m2 of which 200 m2 is mere new build. The rest of the extra space was created by re-building existing rooms. The museum has been extended with three new exhibition wings and a movie theatre. The main goal in developing this building was that the design didn't overpower the exposed exhibitions.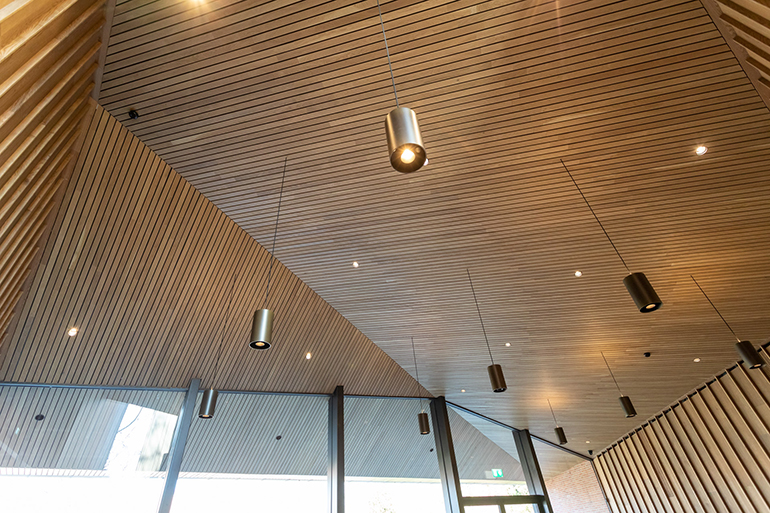 Building of the year 2022
On the 8th of March 2022 the renewed Singer Laren was opened by the former Queen of the Netherlands, Beatrix. The attention didn't stop there and the renovation got a lot of attention afterwards. On the 12th of May, The Bureau for Dutch Architects, called BNA has voted Singer Laren as building of the year. Out of 9 other nominees the 'Subtle extensions of Singer Laren' was chosen as winner in this 17th edition of the BNA best Building of the Year contest. Never before did one building's design both win the judges first price as well as the public's favourite first price.
Derako solid wooden Linear Pro-Line ceiling
Derako is proud to be a part of this building. For the garden room we were chosen to produce a solid wooden linear Pro-line ceiling. The chosen wood type is European Oak with the dimensions of the wooden slats being 15 mm in thickness and 63 mm in height. The different shape of the ceiling caused for a different kind of curvatures. The lines and shape of this building were also formed in an organic way, creating one visual effect from the garden inwards, bringing the outside in SBB Binnenafbouw was the company which installed the ceiling professionally, which made the joints from the walls to the ceiling fit together perfectly. The acoustic properties of this open space were also improved tremendously by using solid wood.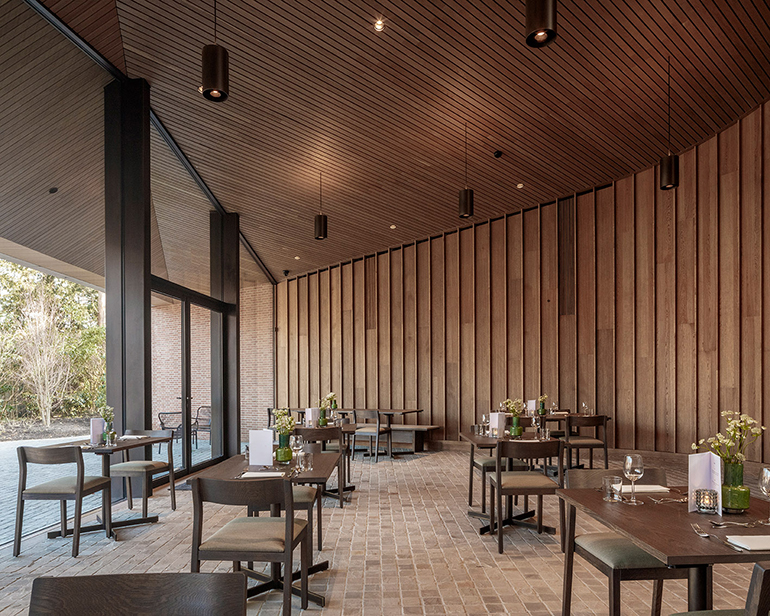 Would you like to be inspired?
Worldwide Derako has created many buildings with solid wooden ceilings and walls. Small projects or big scale projects, cost effective solutions or exclusive designs, Derako will create your vision. Our colleague will be happy to provide you with information and inspiration. Please see our video to get an impression of what we do.