The new Village Hall in Zwanenburg has had a modern redesign with a clear reference to its rural surroundings. The exterior of the building was designed as a series of linked houses by Heren5 Architecten. On the inside, the central 'living room' is mainly accessible and warm, with its elegant wooden trusses and wooden wall cladding.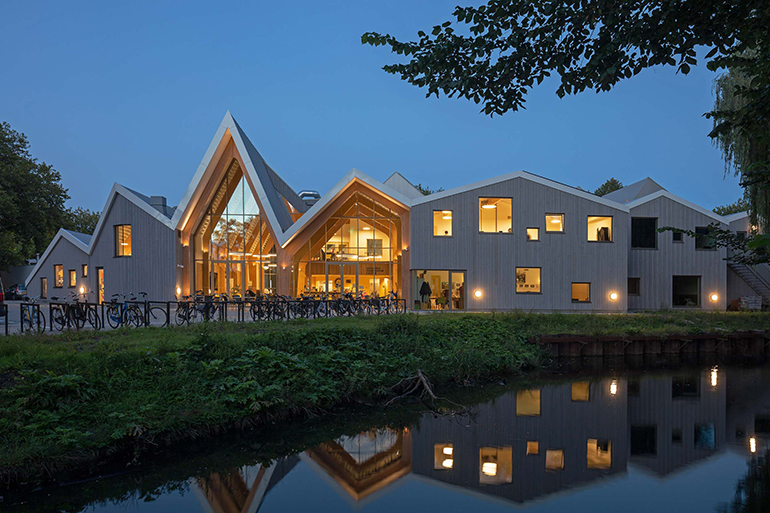 Linked houses
The linked houses are very different in shape without loosing it's uniformity. The 'living room' is in the centre of the complex and borders the other rooms. These include the library, pool room, sports hall and meeting rooms. A prominent tower has also been added. This is based on the idea that a church would one day be built on site.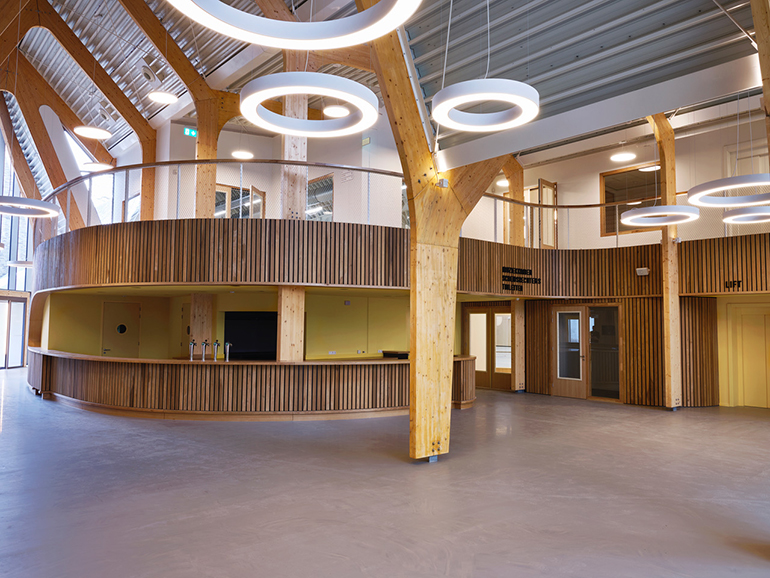 Wood creates warmth
A lot of wood was used for the entire construction and furnishing. This extremely sustainable building material makes the building feel warm and accessible. The facade on the parking side is cladded with finely-sawed Douglas wood. In the building itself, the Derako solid wood linear wall system was used with the American Yellow Poplar wood. Other eyecatchers are the large wooden trusses behind the glass facades that give the 'living room' an impressive appearance. On the inside, the trusses were made of spruce wood and finished with whitewash coating. There is also one truss outside which is made of larch.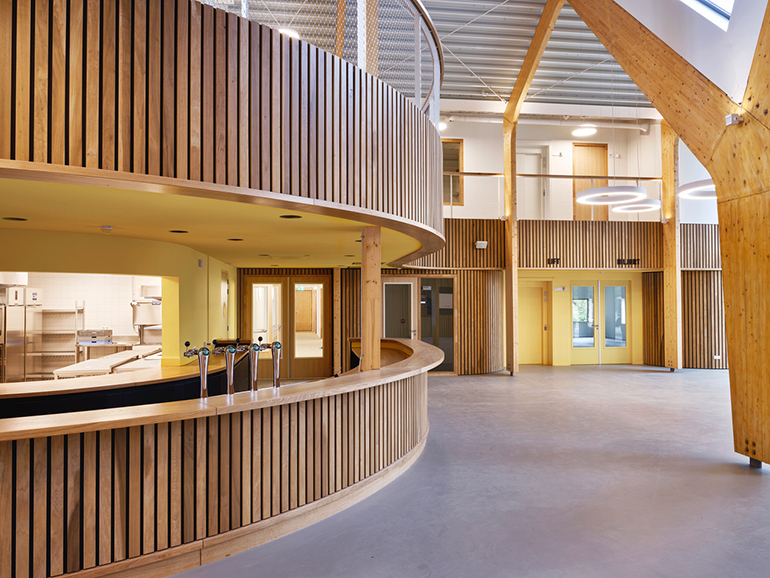 Solid wood wall system - with organic shapes
The bar, which is fitted with the Derako linear wall system at both the top and bottom end, defines the interior of the 'living room'. This wood type has a fine, even structure and provides a lively appearance with its diverse shading. The other walls are also lined with the Derako linear system. The system consists of solid wood parts which are installed invisibly using the Derako suspension system. The profile with clips is very suitable for curved - organically shaped - surfaces. For this project, the rails for the bar, as well as other walls, were delivered prefabricated in the correct radii.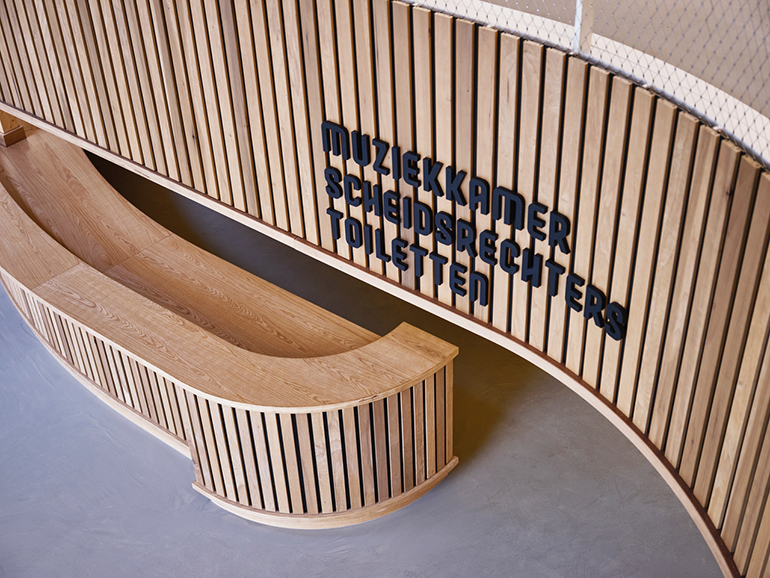 Sustainable project solutions
As with this project, most Derako systems are custom made project solutions, with an integral system warranty, where the architect's design is leading. In addition to customization, Derako also offers standardised products, such as the new Linear Base-line system. This provides a solution for every space, need and budget which makes it possible to apply the unique solid wood material in even more building designs. All systems are C2C Silver certified and contribute to maintaining credits within BREEAM and LEED. The Derako consultants will be happy to provide you with more information.
Pictures: Paul Timmer