Ceiling panels of wood give a room a warm, natural look. With the solid wood systems from Derako, you create a wooden ceiling with a very elegant, contemporary and warm look. The systems are also very durable and there is FCS and PEFC-certified wood available.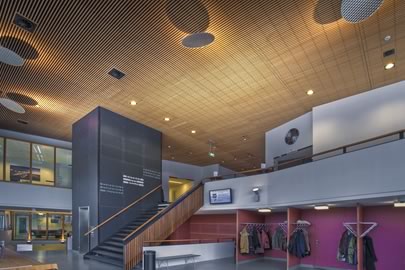 The choice of ceiling panels of wood
The Derako wooden ceiling panels are available in more than 24 types of wood, in which, if desired, a unique, different look can be created by using varnish colours. The application and environment can influence the type of wood to be used. Depending on the request, the right type of wood can be selected for the durable panel ceiling in consultation with the advisors at Derako. A few of the available types are: ash, oak, cherry and walnut, ayous and pine wood.
Finishing the wood
Derako systems with ceiling panels of wood are finished as standard with high-quality, durable varnishes to protect the ceiling wood against moisture, dust and dirt. These are non film-forming varnishes that penetrate deep into the wood.
Durable ceiling
With the ceiling panel system from Derako, you have a durable ceiling. Wood is a natural product that lives, creates a very pleasant atmosphere and attracts people. It is extremely sustainable and last for decades. Industrial wood processing has very limited environmental impact and wood itself stores CO2. But apart from this, wood as a processed raw material, is just very beautiful.
System choices for wooden ceiling
At Derako there are various possibilities available for wooden ceiling panels. There are lineair open, linear closed and multipanel ceilings. These systems consist of solid wooden slats, which are connected invisibly to a ceiling rail. There is also the wood panel grill ceiling system which consists of solid wooden slats that are connected to each other with aluminium or flexible dowels.
Request a sample of ceiling panels of wood
If you would like to request a sample of a linear or grill ceiling system designed in ash, cherry, walnut, white oak, ayous, steamed beech or pine wood, then click on request sample.
In the menu item, types of wood and wood properties, you will find more information on the ceiling wood by Derako. Under fire and acoustics, information is provided on the fire-resistant treatment of the wood. If you need to speak to us in person or have any questions, please contract us on: +31 224 59 23 40 or leave your details on the form on the 'Contact´ page.
For more information about wooden ceiling panels, you can contact us or view the following pages; Design ceiling, Grid ceiling, Strip ceiling, Wooden ceilings, Acoustic ceiling, System ceiling, Ceiling renovation, Curved ceiling, Bamboo ceiling.