Description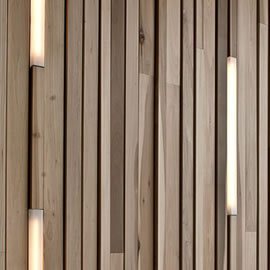 The linear wall system consists of solid wooden slats on a specially developed sub-frame. This construction consists of an anodised aluminium SLR profile, which depending on the specific project, come with boreholes for fastening a patented RVS clip. The slats are supplied in various lengths, but upon request, fixed lengths are also possible. The ends of the slats are connected to each other by a pre-tooled end tongue and groove joint. Different sizes and types of wood can be combined together. In complex projects, the profiles can also be marked to indicate the correct position in the work. This means a clear and prompt installation procedure can be followed at the construction site.
Solid wood
Derako works exclusively with solid wood. Each type of wood has it´s own natural characteristics such as colour, grain, structure, knots and size tolerance.


Derako system advantages
Environmentally friendly. Wood is the only building material that is 100% CO2 neutral and totally recyclable.
The systems guarantee fast and simple assembly.
Technical support. Projects are technically supported and developed.
High acoustic values.
Treated to be fire retardant according to EN13964.
Using certified and preserved materials.
Budget flexible and because of modular delivery very suitable for prefab building.
Comprehensive warranty
Read more about the application and durability advantages in the tabs of this product item. Also, you can consult the menu item ´Visitor type´ in the top right hand corner.