Grill Exclusive-line
Special ceiling shapes and effects? Grill Exclusive-line makes it possible. Design a unique, stylish and exclusive ceiling with this special system that combines tailor-made grill panels with the Derako suspension system. We can produce special designs by employing special production techniques or product modifications. The possibilities also include fan grill panels and varying sizes of wood. The Grill Exclusive-line unites creativity, design and workmanship.
Description
Exclusive panel system
The Grill Exclusive-line gives you maximum design freedom. Just like the other grill ceiling systems, this system combines wooden ceiling panels with the Derako suspension system. The panels consist of solid wood slats which are attached to each other using aluminium dowels. You choose the size of the wood and the spacing; we produce the panel with the right appearance. On the basis of the architectural design, all panel lengths are specified and made to measure.
A unique feature of the Grill Exclusive-line is that three special versions are available thanks to modifications to the product or our production process.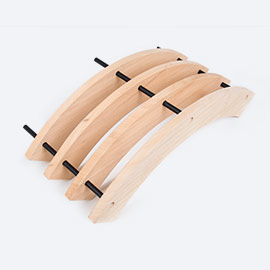 CNC machined panels
Using CNC production techniques allows us to create special shapes with solid wood. The CNC panels give ceilings extra plasticity.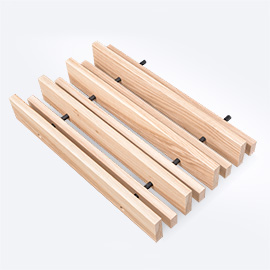 Variation in sizes
Your creativity is our starting point. By varying the heights, widths, joint distances and types of wood within one grill panel, you can create special patterns. A 'random' arrangement of the wooden parts creates natural and playful effects.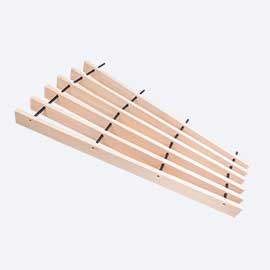 Fan panels and wood notches
Grill fan panels offer practical solutions for lively and flowing ceilings. Grill fan panels allow you to easily create cylindrical ceilings or curves. But you can also create organic and playful designs. Extra notches in the wooden parts can result in intriguing lines or swirling shapes.
Derako suspension system
The Derako standard suspension system is a black Cross-Lock system with special black dowel clips. These clips ensure an invisible, dimensionally stable and sturdy connection between the Cross-Lock profile and the grill panel. The system is also suitable for installation in staggered patterns and in curved or arched shapes. Special suspension systems are available for swimming pools and extremely humid spaces.
For the Grill Exclusive-line, it may be necessary to use a different composition of the suspension system. Our technical depart will check and advise on the implementation of the suspension system beforehand. Additional installation instructions may be required for specific projects. We provide these.
Details
Grill Exclusive-line is a suspended ceiling system. Our advisors are happy to show you various solutions. We will discuss the possibilities for your project together. Grill Exclusive-line is also suitable for walls. This allows you to unify the design of the ceiling and the wall.
Wood and finish

A limited range of wood types is available for the Grill Exclusive-line. We examine per application whether your requirements are in line with the possibilities offered by the wood. Derako only uses top quality solid wood. During the production process, our people select the best wood parts.
| | | | |
| --- | --- | --- | --- |
| Ayous | European Pine | Siberian Larch | European Oak |
| Western Red Cedar | American Red Oak | American White Oak | Yellow Pine |
Finish
The solid wood grill panels are as standard provided with a high-quality lacquer finish that protects the wood. This non-film-forming finish prevents wood damage caused by moisture, dust and dirt. The finish penetrates deep into the wood, but the natural properties and structures are maintained. The lacquer system structure is tailored to the application. In addition to the standard transparent finish, a large number of colours are also available. Our machines can produce any desired colour.
Get creative with colours
Would you like to do something special with colours? Multiple tones in a ceiling, striking colours or expressive contrasts with the neutral wood? Ask our advisors about the possibilities and create your own style and unique appearance.



Product leaflet Colour Wash – SOHO – Metallic Wood
Downloads
Sustainable
Circular and responsible product
Building with solid wood is very ecologically responsible. The material has minimal impact on the environment, is fully biodegradable and renewable. Wood is virtually 100% CO2 neutral and has a permanent positive impact on the health of humans, the environment and the surroundings. All Derako systems are fully demountable. At the end of their lifespan, the materials are separated. The mono-components and natural raw materials that remain can be reused in the circular economy.
Cradle to Cradle
Derako designs, builds and works according to the Cradle to Cradle® principle. We want to take care of future generations. Each material must be fully reusable, without losing value. We have had our processes certified. There are five levels of certification: Basic, Bronze, Silver, Gold and Platinum. Derako is C2C Silver certified.
FSC, PEFC, A+, ISO certification
Derako invests in sustainable business practices. We use wood types with FSC® or PEFC certificates. We evaluate finishing materials on their ecological footprint and have VOC A+ certification. In addition, we embrace the quality and environmental management systems ISO9001 and ISO14001.
BREEAM and LEED
Derako ceiling systems contribute to obtaining credits within the BREEAM and LEED evaluation and certification systems. Ask our product advisors for more information.
Derako systems are sustainable, offer creative freedom and guarantee aesthetic wood solutions. For more information and details about all certifications, please see our menu item C2C and certification.