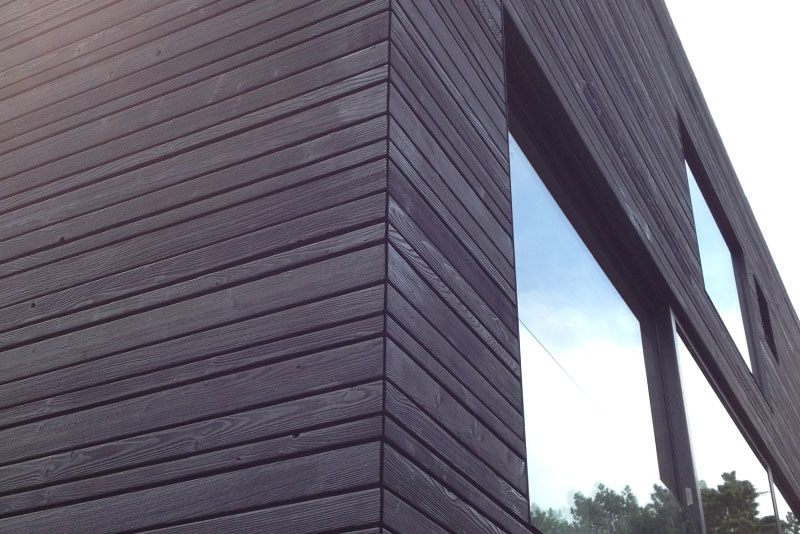 The Derako façade system has been on the market for some time now and has been used successfully for various projects. Recently the system was also made available with the characteristic Zwarthout "Shodoshima". The slats' entirely hidden assembly method makes the system not only unique but also ensures reduction in building costs. In addition, the system is C2C certified and contributes directly to obtaining BREEAM and LEED credits.
The architect's/designer's creativity is always the guiding principle when using Derako products. With this in mind we are constantly aiming to offer a maximum range of high quality and sustainable wood. Each type of wood provides its own unique appearance.
Derako – A wide choice
Besides the application of solid wooden slats, Derako has also recently begun offering the possibility to use preserved wood sorts and bamboo. Derako entered into strategic cooperation with suppliers such as Foreco (known from WaxedWood and NobelWood), Accoya and MOSO (supplier of Bamboo X-treme). The characteristic Shodoshima Douglas made of Zwarthout has now also been added to this range.
Special appearance with the Zwarthout Shodoshima
The Zwarthout products are produced according to century old Japanese techniques whereby the wood gets preserved through a burning process on the surface of the wood . At Shodoshima Douglas, FSC certified wood is plain sawn, burned, brushed, and then finished by staining. The robust and lively grain structure is then clearly visible and the material provides a unique glow in the sun. Because of the treatment technique, Shodoshima is very sustainable, highly resistant to all sorts of weather influences and does not blemish.
The benefits of the Derako façade system at a glance:
Open hidden cladding fitted by mounting at the rear
Placing the slats horizontally or vertically
100% recyclable materials
Simple and fast assembly – Also suited to façade renovation projects
Because of modular delivery very suitable for prefab building
Project support and freedom of design
Certification
Just like all the other Derako systems, the Derako façade system is Cradle to Cradle® certified. Derako wants to be sure that all products have a lasting positive influence on human health and the environment. Besides ISO 9001 Derako also uses an environment management system according to ISO 14001 and the varnished slats carry an A+ certificate with regard to emissions. Derako would be only too pleased to send you, at your request, an overview of the available credits within BREEAM and/or LEED.
For specific information about Shodoshima Zwarthout applications you can contact one of the Derako advisers.