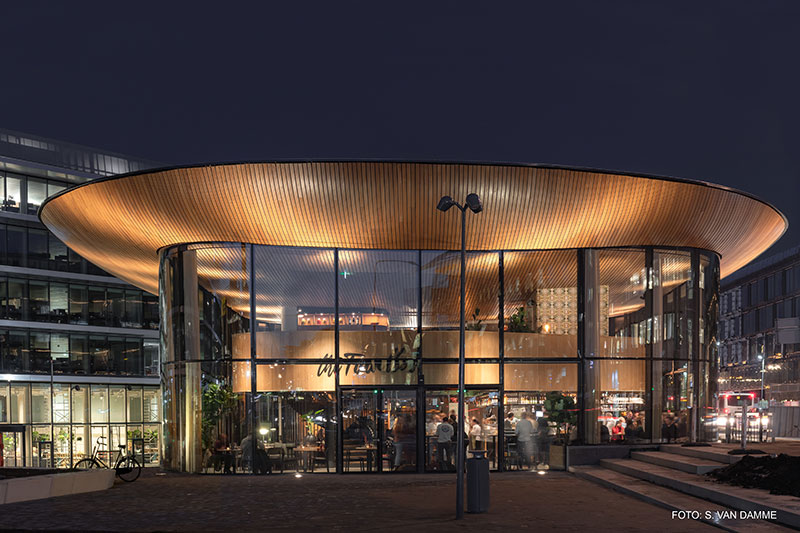 The new Traveller Pavilion in Cumulus Park Amsterdam, with its soft shapes and distinctive wooden ceiling, has been designed to fit seamlessly into its surroundings. In an up-and-coming district of Amsterdam Zuidoost, the pavilion is an inspiring and stimulating destination for campus staff, entrepreneurs, local residents, students and visitors. The Powerhouse Company design includes a combination of a clear glass façade and natural materials and colours, which creates a subtle connection between the inside and the outside. Derako's solid wooden ceiling plays an important role in this connection.
Ceiling from the inside to the outside
The ceiling for this project, which runs from the inside to the outside, has a surface area of 704 m2 and is made of Siberian larch wood and following the Derako open linear system. The challenge of the project was mainly in the outside ceiling. Due to the double-sided curvature in the design, all parties consulted at an early stage in order to realise this unique shape. Derako first examined whether the lines ran parallel everywhere and from there the entire layout plan was developed. This layout plan was the guideline for bending and installing the profiles to which the wooden slats are attached unnoticeably.


Installation
All profiles were prefabricated and numbered by Derako and then delivered to the building site, so that people knew exactly where to place them. By adjusting the dimensions of the slat, the desired slot diffusers could be applied properly. Special hatches were also installed in a number of places according to the drawings, so that it was easy to reach the installations behind them. Everything was worked out and prepared in advance by all the parties involved in the construction process and therefore the assembly went smoothly. During the installation phase, Derako was regularly present on site to find a solution to a number of project-related challenges together with the contractor and the installer. A beautiful end result was achieved thanks to the good cooperation with the installers, and the design that the architect had in mind became reality.
Are you also thinking about a solid wood ceiling for your project?
The Derako systems are custom made project solutions, with an integral system guarantee, where the design of the architect is the guiding factor. All systems are C2C Silver certified and contribute to obtaining credits within BREEAM and LEED. In addition to customisation, Derako also has standard products, such as the new Grill Base-line system. This provides a solution for every space, need and budget where it is possible to apply the unique solid wood raw material in even more building designs.. The Derako consultants will be happy to provide you with more information.