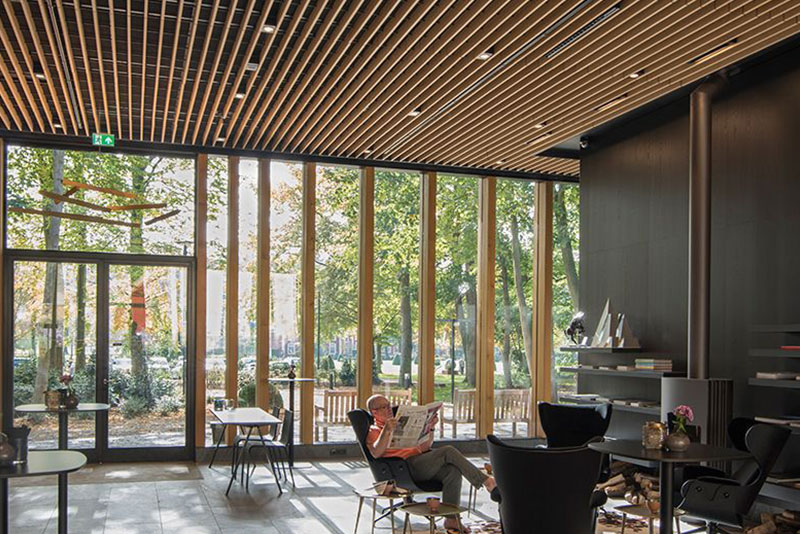 On the Chateau St. estate a pavilion with a very special role and appearance has been built. The pavilion stands in between two historic buildings and with its natural design it has the requisite connection with its environment. Various rooms in the pavilion, including the warmly and classically furnished entrance hall, have been fitted with solid wood Derako grill ceilings. Château St. Gerlach is an estate near Maastricht, in the centre of the undulating Limburg countryside: a unique complex with a luxury hotel, restaurant and spa. Mecanoo architects designed a pavilion that connects the historic buildings, including the Château (1661), the St. Gerlachus church (1727) and the farmhouse with it's inner courtyard (1668).
Pavilion
The transparent modern pavilion has three large multifunctional areas under an overlapping roof with curved shapes. From the pavilion guests can see the castle, the surrounding hills, the fields and the cooperative farm. The materials used have been inspired by the natural surroundings of Limburg : marlstone, bluestone and oak.
A classically decorated entrance hall with a fireplace forms the central entrance to the various rooms in the building. Besides the ceilings in the other areas the ceiling in the entrance hall has a Derako grill ceiling made from ayous wood with a colour finish. By finishing the areas above the ceiling in black, the impression of the natural wood is enhanced and forms a warm addition to the classic elements and materials. In addition, the positioning of the slats in the direction of the entrance gives a visually longer and larger feeling to the space.
Would you also like a Derako appearance for your project?
For more information about our solid wood C2C certified ceiling systems, please contact the Derako advisors. In addition to ceiling systems Derako also supplies solid wood wall systems and façade systems.