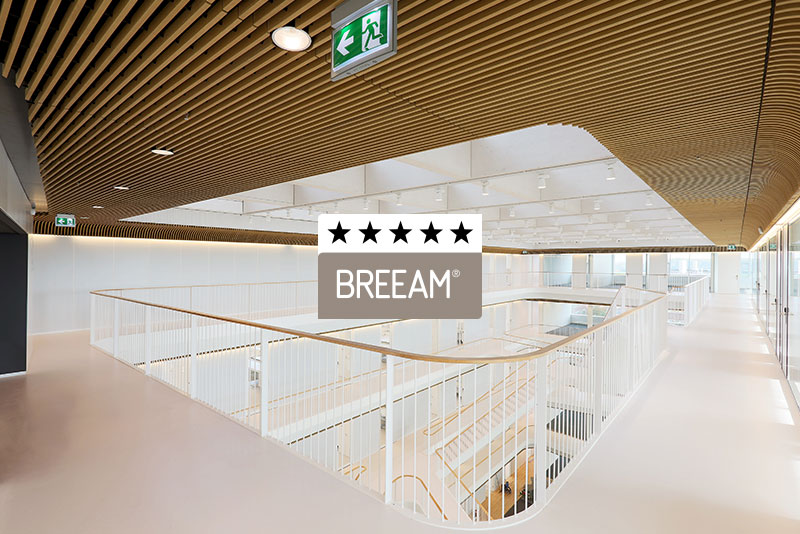 The Derako ceiling and wall systems are available in a large variety of durable woods and also in bamboo. With the three variants of the linear system and several grill versions, there is always a form of implementation that provides the desired appearance in a new project or renovation project. All Derako systems are Cradle to Cradle® certified and contribute to obtaining BREEAM and LEED credits.
Creating a building with unique sustainable ceiling or wall decoration is possible when using Derako systems. The solid wood systems are made to measure architecture solutions with budget flexibility, whereby quality always comes first. The creativity and the architect's or designer's ideas are always the starting point at Derako. With this in mind, at various locations globally and in cooperation with renowned architects unique, contemporary and natural building décors have been created.
Advantages of the Derako solid wood ceiling and wall systems:
Environmentally friendly. Wood is the only building material that is 100% CO2 neutral and totally recyclable
The systems guarantee fast and simple assembly
Technical support. Projects are technically supported and developed
Great acoustic values – suitable for acoustic ceilings
Treated to be fire retardant according to EN13964
With FSC® or PEFC certified wood or bamboo
Budget flexible and because of modular delivery very suitable for prefab building
BREEAM credits
In addition to a Cradle to Cradle (C2C) certification the Derako systems also contribute directly to obtaining BREEAM credits.
BREEAM stands for BRE Environmental Assessment Method, and is an internationally recognized method to determine the sustainability performance of buildings, based on nine different aspects. The categories are divided into different criteria (credits) and per credit, points can be scored and after weighing each category the end balance of the building is made up. It is possible to achieve five different levels; Pass, Good, Very Good, Excellent and Outstanding.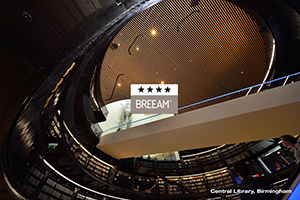 Since 2009 there is a Dutch BREEAM version available, named BREEAM/NL. Derako wrote an information document that shows an overview of the available credits within the BREEAM system. This document is linked to the Derako website and can be downloaded for all products including the solid wood Linear open ceiling system. A more detailed document is available on request.
Environment management and emission control
Following BREEAM´s requirements and assessments and C2C, Derako wants to be sure that all products have a lasting positive influence on human health and the environment. That is why, besides an ISO 9001 system, Derako also uses an environment management system according to ISO 14001 and the varnished slats carry an A+ certificate with regard to emissions.
More information about BREEAM and the projects shown
In this article some pictures are shown of BREEAM certified projects accomplished with Derako ceiling systems and / or wall systems. Under the menu item ´projects´ there are more photographs and details of the projects concerned. Should you require further information on how the BREEAM or LEED credits can contribute to your project, please contact one of the Derako advisers.