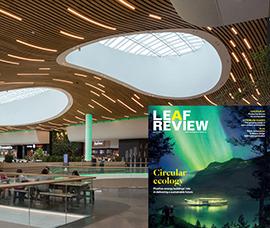 In the summer edition of Leaf Review, a European Platform charting the best ideas and developments in the architectural industry, an article appeared about the sustainability and possibilities of solid wood. Sita Vleer, the marketing manager of Derako, discusses the advantages of solid wood systems in the interview, further illustrating the design and support possibilities of Derako.
Support in creativity and design
On the basis of a beautiful project in Emmen and Poland, Derako explains the possibilities offered by solid wood systems to realise unique designs. Derako offers support during the entire project, from design and pre-engineering up to installation. To further illustrate this, Sita Vleer later in the article adds: "During the installation, we visit locations for support. We also take specific design challenges, the integration of building systems and logistical issues into account. For example, a delivery for a project at Schiphol took place at night in order to impact the operations of the airport as little as possible."
Derako's efforts in the field of sustainability
The fact that sustainability is very important to Derako is underscored in two paragraphs that do not only describe the power of wood, but also the certification which Derako has in this field.
Read the entire article from the "Company Insights" of Leaf Review:

Derako in Leaf Review633.14 KB